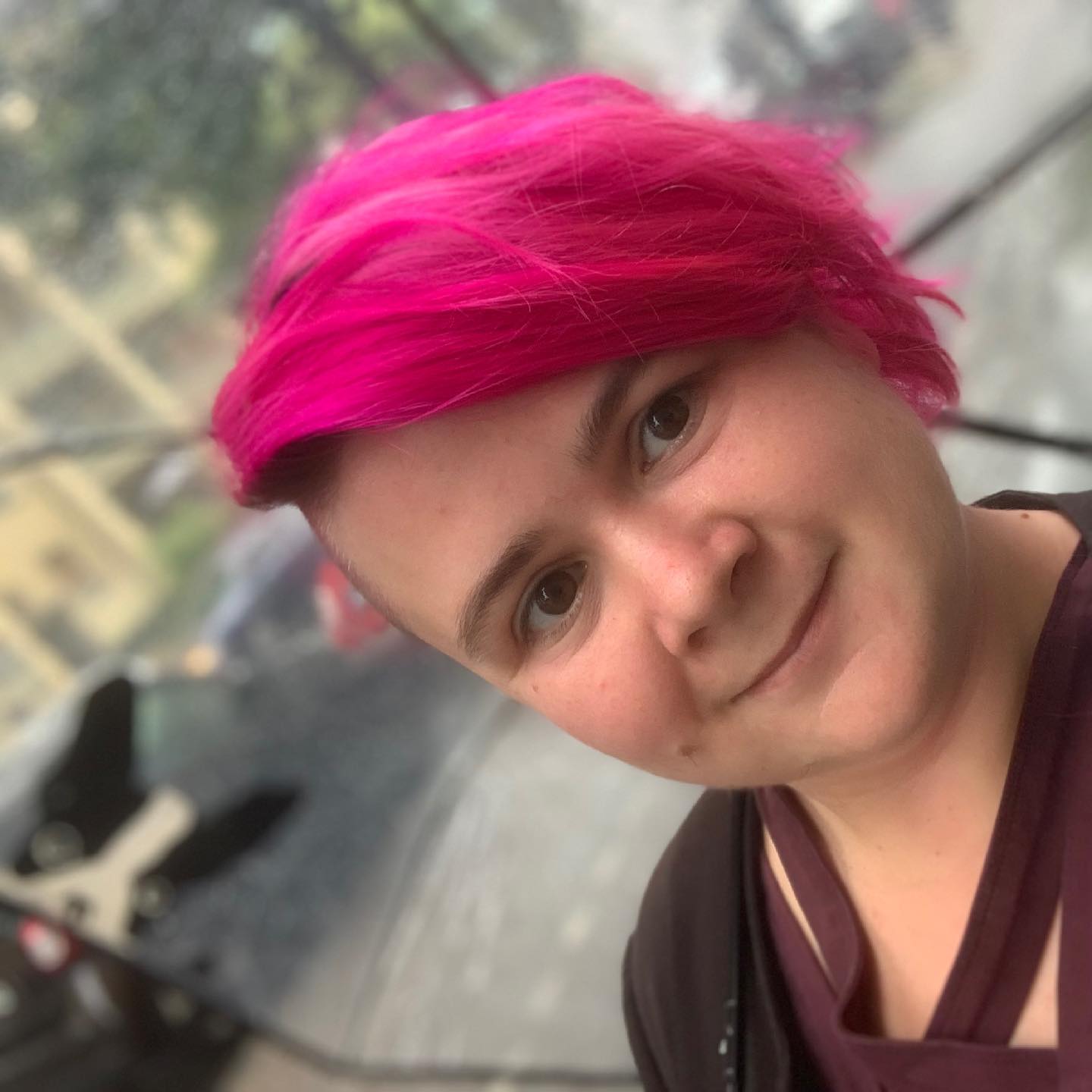 Hello, my name is Mercedes and I'm the teacher at QUEER_gesprochen?!. I don't have a preference when it comes to my pronouns, I'm 36 years old and live in Berlin. I was born and raised in Germany, and studied theatre and communication science for my bachelor's degree and have complete a master degree in Adult Education/Lifelong Learning. I have a certificate as a Teacher for German as Foreign Language from IH (International House).
Let's translate this in German:
Hallo,…

…mein Name ist Mercedes und ich bin die Person hinter QUEER_gesprochen?!. Ich hab keine Präferenz bei Pronomen, ich bin 35 Jahre alt und lebe in Berlin. Ich bin in Deutschland geboren und aufgewachsen und habe Theater- und Kommunikationswissenschaften für meinen Bachelorabschluss studiert, aktuell beende ich meinen Masterabschluss in Erwachsenenbildung/Lebenslanges Lernen. Ich bin von IH International House zertifizierte Lehrkraft für Deutsch als Fremdsprache.
I know from my own experience that most language learning books are written from and for a heteronormative perspective and I remember how difficult it was to worry about expressing who I was or even outing myself to a class full of strangers while concentrating on learning. I've also experienced the challenges of moderating the problematic opinions of some students as a teacher. I've always loved learning languages and ever since I started working as a German teacher, I've wanted to make a difference. That's why I decided that queer people (me included) deserve better. Language learning should be a safe space where you can use the pronouns you and/or your partner feel most comfortable with, and where you can learn the vocabulary you need to express yourself and your identity better. Let's translate again to German:
Von meinen eigenen Lernerfahrungen…

… weiß ich, dass die meisten Bücher aus heteronormativer Perspektive geschrieben wurden und das ich mich in einem Raum voller Fremder nicht outen will, während ich mich aufs Lernen konzentriere. Beim Lehren lernte ich dann noch die Anstrengung kennen, problematische Meinungen von Lernenden zu moderieren. Sprachen lernen habe ich immer geliebt und seitdem ich angefangen habe als Lehrkraft für Deutsch zu arbeiten, wollte ich einen Unterschied machen. Eines Tages beschloss ich, dass queere Menschen (einschließlich mir) etwas besseres verdienen und Sprachenlernen ein sicherer Raum sein sollte, wo du die Pronomen, die du und/oder deine Partner*innen fühlen, benutzen kannst und du den Wortschatz, den du brauchst, um dich selbst auszudrücken, lernen kannst.