THANK YOU!
Two years ago the project was born out of a spontaneous idea and since then a lot happened. I gave a lot individual lessons, startet A1 groups, A2 group, different forms of conversation class and the Queer History Course. I also went to the Winter Qweermarket last year and since some weeks Jarral, an amazing person and diversity trainer, helps me to offer my courses. I'm very grateful for all of this and most and foremost for my students who endure my quirks and patiently try out new ideas of mine and new material – even when I'm not sure about it myself. Thank you so much! It means a lot to me. <3
Since birthdays come often with presents I want to reveal today the new Logo. When I started, everything was very spontaneous and I wasn't sure if people are even interested in queer German courses. And since it was still lockdown, vaccination program rolling out very slowly and I'm not even in Berlin I needed to make the offer quickly visible online, so I decided to use the progressive flag and just write the name of the project and what it is on it. And it suited the purpose for starting well. But after a while I wanted to create something special for my project, especially because during pride month QUEER_gesprochen?! becomes invisible because everyone uses the colours of the pride flag. (Don't let me start ranting about this one language school who kept the pride logo till winter. I have several students with me who told me they were misgendered there or not taken serious about their gender.) So when I decided that QUEER_gesprochen?! will stick around a bit longer and started to professionalise it more and more, I also started to built a new Logo. And that is it: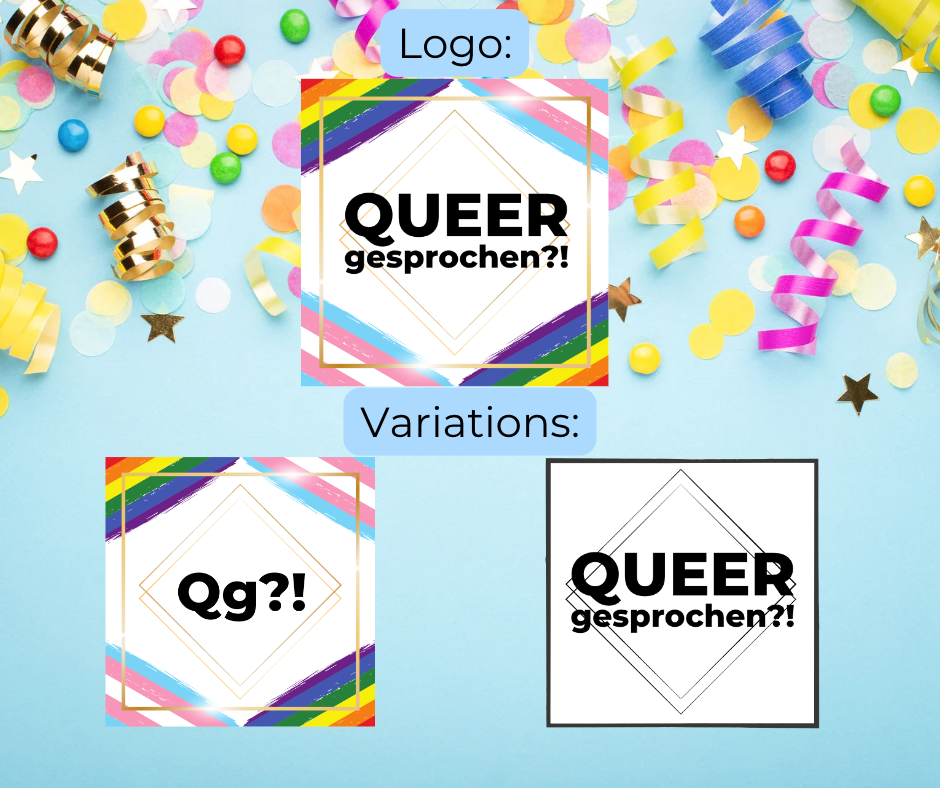 Variations: For online purposes it will always have the flags, but sometimes it will be shortened to Qg?!. Since printing with a lot of colours can be quite expensive and is not always possible for every product there also exist a more minimalistic version without the flags. So don't worry, when you come across a flag-less version. Since I still have some stickers and business cards of the old logo and don't want to throw them away, I finish them off first before using new ones.