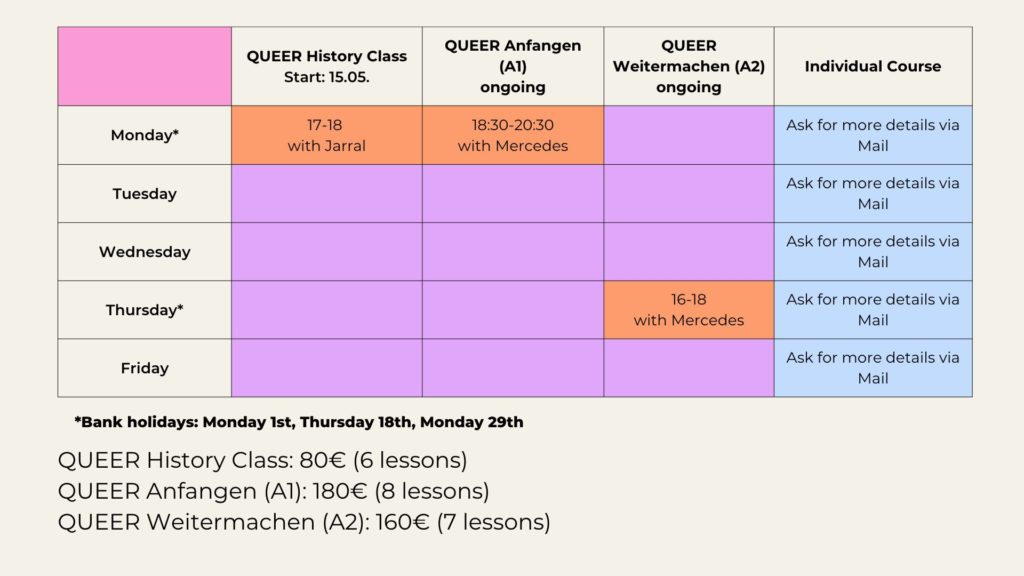 QUEER_anfangen. Start Learning German in a queer group
You want to learn German without having to argue about pronouns or explain your sexuality? Other courses were too fast and couldn't explain gender neutral options? Then join this class and learn with other queer people in a safe space.
Ongoing and takes place Tuesdays 18-20 CET till 10th July. No lesson on 1st and 29th May due of Bank Holiday in Germany.
If you join on May 8th, 8 lessons for 180€
QUEER_weitermachen. Continue Learning German in a queer-friendly environment
You already know some German but would like to learn in a group with only queers for a change? Look no further, there is an A2 class for you!
Ongoing and takes place Thursdays 16-18 CET till 22th June. No lesson on 18th May due of Bank Holiday in Germany.
If you join May 4th, 7 lessons for 160€.
QUEER_gelebt. Learn about Queer history in Germany
You're a history nerd and want to learn German while exploring Germanys queer history? Then this course is for you!
Takes place Mondays 17-18 CET starting 15th May. No lesson on 29th May due of Bank Holiday in Germany.
6 lessons for 80€.
German History with interactive exercises
Online, no further material needed.
Attention: The course will be fully in German, so a general understanding of the language is necessary. We do some vocabulary work, work with texts and audio and talk about what we learn. If you're unsure about your level, let me know and we do a 10-minutes conversation beforehand.
All courses:
are online
a safe space for queer people and everyone interested in diversity sensitive language
small groups 3-7 people
pace depending on the group, if it's too fast or too slow -> tell me and we find a solution
no further material is needed
if the course of your choice already started, prices will be reduced accordingly.
For some learning a language is easy, for others it can take forever. Affects on your learning experience can be: your former learning experience, your native language, neurodivergency, how busy your life is, how boring the book is, how safe you feel in front of your teacher and other students and many other little things. This doesn't mean you'll never learn this language, just that you need a different learning setting. At QUEER_gesprochen?! you'll find a safe space with facilitators who are also part of the LGBTQIA* community, know intersectional discrimination, have neurodivergencies themselves and love learning languages. They try to make the lessons as accessible and inclusive as possible. Please give us feedback, if something is not working for you, so we can do it better.